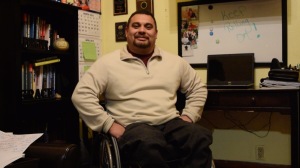 Have you ever wondered how determined you are?
I participated in a 48 hour challenge in which Jeff Goins from challenged all of his readers to learn something new in 48 hours. The winners of the challenge had the opportunity to win his Art of Work Course. I was determined to win, and I honestly felt deep down in my heart that I would.  My heart told me I had a chance at winning because I prayed to God asking how I could become noticed in the blogging and writing community.  I wanted to take the course but I didn't know how I would pay for it.
I was determined.
I decided that I would learn how to shot and edit a video, something I had never done before. Sergio and I talked about making a video for a while but we put it on the bottom of our list.  He was going to be the star of the video and we needed to figure out what he was going to say and find the time to shot.  As soon as I read the challenge I knew we had to make the video.  Other people made art, sold art, wrote e-books, roasted coffee beans, or anything that they wanted to learn in 48 hours. I learned that if you put your mind to something you truly can accomplish anything you want in 48 hours.
I actually did it in about 8 hours because I was out of town for the first day of the challenge and when I arrived at my parents house my dad was doing yard work.  I knew I couldn't interrupt, he values his lawn, and can often be found outside watching the grass grow.  I joined in on the yard work but it was very painful for me because the clock was ticking.  I knew I could get it done but I needed his participation and I knew how long it would take him to finish his yard work plus admire his lawn after the work was done.  Seriously I have seen that man stare at his lawn longer than I have seen him stare at anything else in this world.
Afterwards I made him take a shower and then I prompted him to get in front of my camera and speak! I uploaded the material on my computer and guessed how the editing software should work. I usually learn by trial and error and googling. The longest part of the entire process was waiting for the footage to upload.
About 1 am the program quit unexpectedly and I almost burst into tears. I looked for my video that was one last step away from being completed and I couldn't find it. I realized that even though it took me hours to edit the first time I would be faster the second time since I already learned how to do it. I was ready and willing to re-do my work at 1 am because I was DETERMINED to finish and I knew in my heart I could be winning something I really wanted. I had faith that I had a chance at winning. I started to make a new video when some feeling inside of me said to check again for the video and I found it!!!  I was so grateful to find the video. I uploaded it, shut my laptop and went to sleep for 4 hours. I got up at 5 am to finish the e-mail to go with the video, and the picture on the home page.
This was not a story to say "look at what I can do in a few hours" but instead a motivation of what you can do in a few hours. What are you motivated or determined to do. Try it out this weekend to be able to learn something new in 48 hours, or even in 8 hours. If you lose a little sleep in the process, don't worry because it will be worth it.
I waited anxiously ALL day for the results of the winners. And right before I went to bed I found out that I won, along with 2 others. I texted my dad and he was excited for me and immediately following the text I got one that read "Can we re-do the video, I think I can be better at speaking" We both knew that it wasn't either of our best work.
We knew the video wasn't the kind of quality we wanted people to see, but we knew it was important for me to finish. This week we took more time and re-made that video. We think this one is of better quality and we know that we can only get better with time at speaking, shooting, and editing.
If you already subscribed to our e-mail list you should receive a new e-mail with a link to the updated video.  If you haven't subscribed yet now is the perfect time.  Sign up form is here. After you sign up you'll get to watch Sergio's Ten Ways to Keep Rolling On, a video for the walking, rolling, sitting, or standing.
Please check out Jeff Goins and read his new book The Art of Work he has inspired me in so many ways and presented me with an amazing opportunity.
Don't forget to challenge yourself this weekend.  Find something you have always wanted to learn how to do, and do it!  Tell me about it, I would love to hear what you learned!
[starbox]