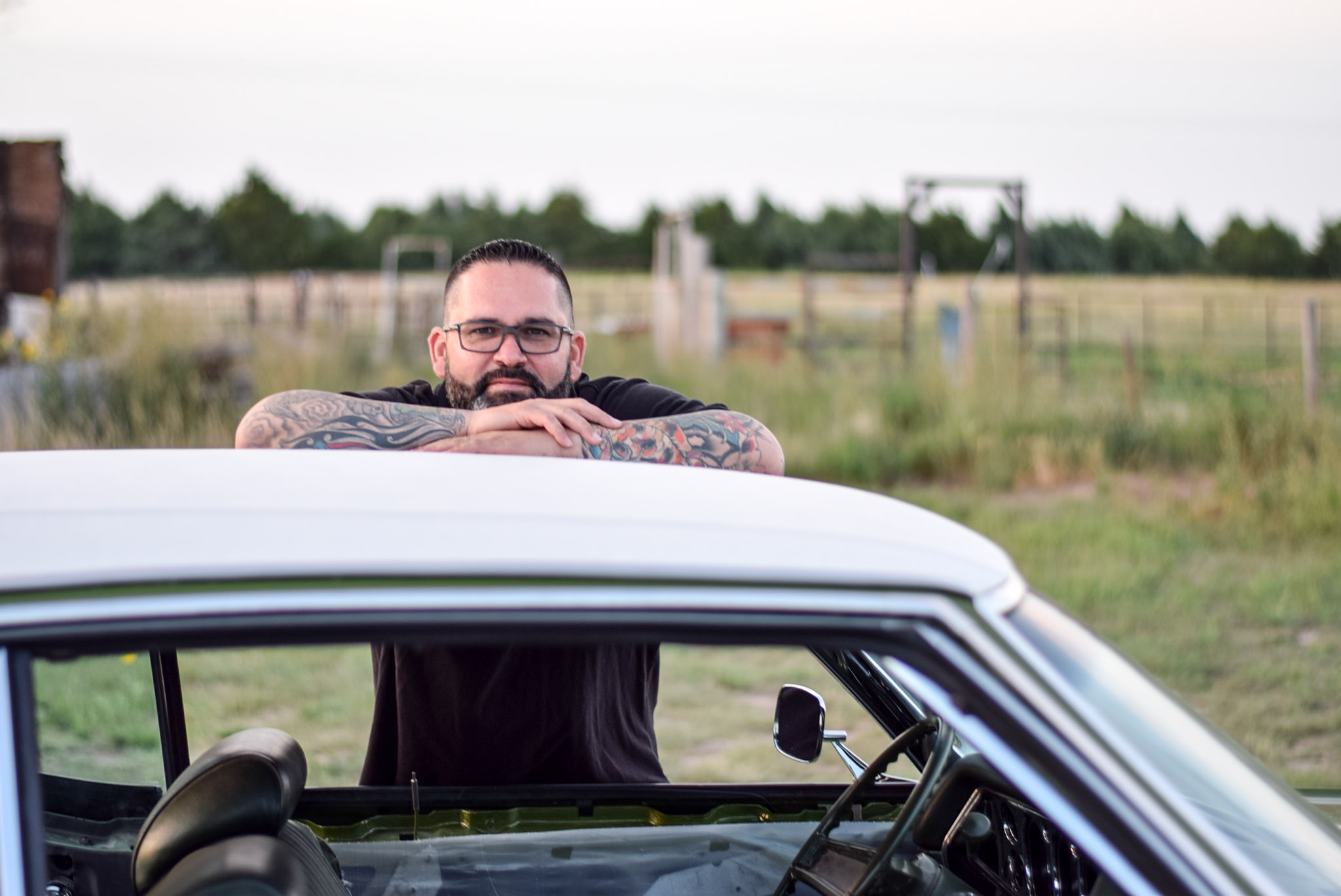 "Don't be afraid to ask for help and don't be afraid to ask for support.  There are things in life that can't be done alone."
Those are the words and the best advice given by Darin Rivera, a single dad, widower, car enthusiast, and hard worker.
His philosophy in life is to look forward.  Every city is based off of one landmark.  One brass plate that defines where the city will began and determines how the streets will be laid out.  
He takes off his shoe and places it in the middle of the room to demonstrate the lesson he is teaching me.  He asks "If this is the point of the city and I ask you to make a straight line due west what's the best way to do that?"
After I don't respond he says, "Take one step back and look all the way forward.  It's simple.  Don't dwell on the past, and don't get sidetracked away from the goal.  Just look straight ahead to see where you're going."  
Darin takes one step back to evaluate where he is going in life and although he doesn't like to dwell on the past, he knows his past is what got him to this exact point he is in his life.  The point of living in rural Colorado, raising his daughter as a single dad.  
"I'm proud to be any Army brat, my father has always been my hero for standing up and fighting for his country."
Raised with his father in the Army and his mother as a stay at home mom Darin was taught the value of integrity and leadership.  He considered following in his father's footsteps by joining the military, but life lead him down a different path.  Construction was all he knew and he saw the opportunity to be a leader in his field.  He can attribute his career success to the lessons his father taught him. As a young boy and a young adult Darin watched the way his father communicated with people.  He admired how he never talked down to any one.  He watched his father engage in intelligent conversations and Darin knew he wanted to be respected in the same way.
As a teenager Darin had a son and two years later a daughter. The values his mother taught him as a kid were the ones he held close to his heart as a father.  She taught him how to be a compassionate and affectionate parent.  She was a strong figure in his life who taught him one of his most valued lessons, one that he passed on to his kids, for every rainy day there are many sunny days ahead.  
For years he was a manual laborer who worked on construction sites, but he had goals to move up in his field.  The passion he had for his work lead him from commercial projects to industrial projects, and even nuclear power plants.  He looked up to his bosses and knew that one day he wanted to be in their position.
"I started as a laborer pushing a shovel, to a structure superintendent pushing projects."
His ultimate goal was to travel the country while managing various construction projects. He wanted to take along the love of his life when they were married in 2001.  It was during their union of marriage when they combined their families, Darin's son and daughter, and her son.  One year after their marriage they expanded their family with the birth of their daughter Angie.  With the expansion of his family Darin wanted to advance his career even more in order to provide for his family.  
Angie, who is now 14 years old walked into the room in a maroon dress, the dress she planned to wear to a dance later that evening.  Darin looked at her dress and unapproving asked,  "Are you going like that? Your dress is all wrinkly."
"I need to wear my dress while I do my hair, otherwise it will mess up when I try to put it on."  Angie explained while she motioned to her long black hair with the ends dyed purple.  
"Look at that, your hair matches your dress!  That's so cool.  But I can't have you going out with a wrinkled dress. Go give it a second look and if you want me to iron your dress I will."  
She sighed leaving the room knowing her dad would iron her dress no matter what she wanted.
"My daughter lost so much at four years old.  I couldn't make my life about me I need to make it about her."
10 years ago Darin lost his wife, his daughter lost her mother.  It was one of the hardest things he's ever had to go though, but he takes what life has given him and uses that as a gift. Each step of his journey is preparation for what life might bring him next.
At the time of his wife's passing his career was still going strong but everything had changed.  He no longer saw traveling the country as an option with a daughter to raise as a single dad. The years went on while his older children grew up to be adults and began to start their own families.  Darin realized he need to make a change for his youngest daughter.
He wanted his daughter around family and moved from the city to the plains of Colorado.  There Angie would stay with his mom while he worked in the city during the week.  He would visit her every weekend and once during the week.
He thought he was doing the right thing but after a year of only seeing his daughter 3 days a week, he knew it wasn't enough and he admits that he was being selfish.  He wanted to keep his job managing construction sites, the job that he worked his way up to from 18 years old to his early 40's.  He had been in construction for over 20 years and it was hard to give up his dream.
In the end he knew his daughter was more important.
Darin sold his house in the city, sold most of his belongings and found a place to rent in the plains to permanently be near his daughter and his family.  Since there were no construction sites he found a job at a car dealership managing the service department.  It was a struggle for him to move from the city to the plains.  The life and pace were different.  He was used to city being structured and every one following the rules on the work site.  In the plains everything was slower paced.  
"In the plains people are slower paced, but it's the culture.  It's the way of life.  It isn't seen as a bad thing here."
His background of work and his fast paced life wasn't receptive at first.  He was told that he didn't belong and that no one wanted him around.   It motivated him even more.  It made him even stronger.  He knows that respect is always earned, it is never demanded.  It took a while for both Darin and his co-workers to adjust to each other.  Now, a few years later he believes he has earned respect and he has learned to slow down a bit.  He still struggles to embrace the laid back culture, but he tries to go with it.  
He reminds me of the city landmark. He tells me to take a step back and look at what's ahead of me.  
I took a moment to find his daughter Angie.  Her room is filled with photographs and she asks if I want to see her most recent artwork.  She's a beautiful artist, and gets better every time she shows me something new.  Angie is my cousin and even though she's 13 years younger than me I admire her when I'm in her presence.  She reminds me of a younger version of myself, only stronger, and more sure of herself.  She doesn't know it, but she inspires me.   
Ten minutes passed when my Uncle Darin walked into the room with Angie's maroon dress freshly pressed.
"Bam!!" He says.  "We gotta look polished.  I can't have you going out like that!"
Even though his life took many unexpected turns, right now, where he stands, he has life figured out.  
Take one step back, look forward to see where you're going, and keep rolling on.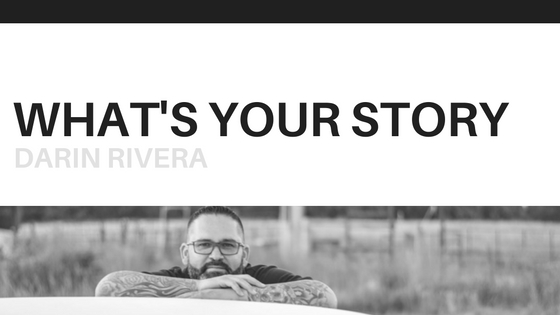 Darin is the first person to share his story for our new segment What's Your Story.   We all have a story to tell, so tell us What's Your Story?  Are you brave enough to share it.  If so e-mail us at ashley@thewheelsofgrace.com.  All you have to do is tell us who you are and what you're all about, we'll do the rest!
Don't forget to read our book What's Your Story, the project that lead us to want to share your story too!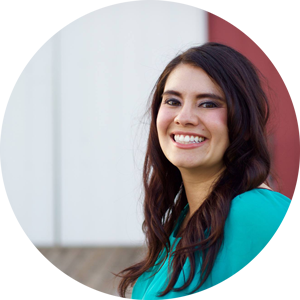 Ashley
Ashley Espinoza is the creator and editor of The Wheels of Grace.  Ashley helps her parents write their memoir of  love enduring parenthood as teenagers,  gunshot wounds, paralysis, fertility issues, and adoption.  Ashley is writing her own coming of age memoir to share her unconventional childhood.  Even though Ashley was raised by teenage parents and a dad who was in trouble most of his youth, she was given so much love and was taught that anything in life is possible, even when faced with adversities.
Read her first published essay in the book The Magic of Memoir! 
Follow along with us as we finish writing our book.  We need your encouragement!