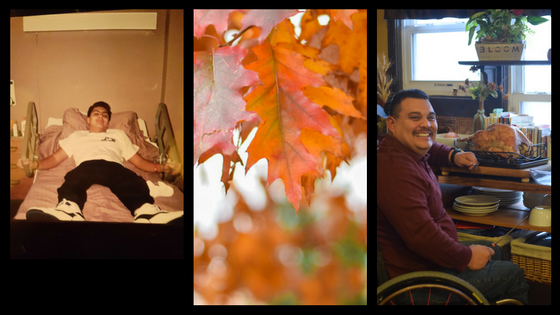 We've reached the time of the year when we are encouraged to take stock of life and be thankful. This isn't difficult for me, all that is required is that I open my eyes and look around. I have a wife that respects me and shows me how much she loves me.  I still get  to see my kids open up their eyes to the start of a new day. I wake up to the shelter that my wife and I have built for our family, to protect us from the elements. I don't go hungry and I have the things in life that help make it easier to live, like transportation, clothes, and a job.
Is this what it's supposed to look like, Is this how it's supposed to sound? I would have to say yes, only if all I gave you was the fast version or the upper level of my story.
I am thankful for the things that I can see surrounding me everyday. What I have mentioned is only the reflection of my thankfulness the true meaning comes from the journey, putting one foot in front of the other or in my case one push after the other of my wheels and how it's gotten me here by remembering the obstacles that formed my foundation.
I was reminded of how I got here  after Halloween, when I visited a gentleman in a nursing home, that was recovering from a gunshot wound that took his ability to walk. Somehow by just passing through the front doors of the home, I found myself catapulted back to age 18 again being in the exact same position trapped to my bed staring at the ceiling with nothing but my thoughts, wondering what my future was going to be like, why did I live, and how was I going to live in a wheelchair?  I was scared, angry, and confused all at the same time. This was like having a black curtain surrounded around my bed preventing anything positive light from coming in. I felt as if i was coming to visit myself today.
I was visiting to lend support and to help answer any questions that there could be about being in a wheelchair. But at this moment I was the one that felt as if I needed the support.
Entering the room and seeing the bed with the metal bars on the side instantly sent a chill up my spine, these were there to prevent me from falling out of bed as if I i was an infant again. I entered the room and the man staring back at me wasn't myself but instead someone going though what I have been though.   His expression was the same look I see in my daughter Gese's 9 year old eyes when I come home from a business trip. He was glad to see me and he had a lot of questions. Questions that only I or someone in a wheelchair could answer. He wanted me to share the secret to how to live a fulfilled life in a chair. He wanted to know what needed to be done to achieve his life back. But he stopped me before I could say too much and he told me that he didn't want to offend me but he didn't want to hear about God. I was 100% ok with this, I wasn't here to tell him about God, I was here to show him about God. In that instance I felt the light break through the black curtain in the room. Instantly I was propelled back to reality, I was not that young man any longer and I had to remember that sometimes the things we can't change are meant to change us!
"Because of the Lord's great love we are not consumed, For his compassion never fails"  Lamentations 3:22
So what am I thankful for, I'm thankful for the journey that the Lord put me on so I could learn to live a new life and so I could experience what life was meant to be.  I am thankful that I am a changed man.  
What are you thankful for ?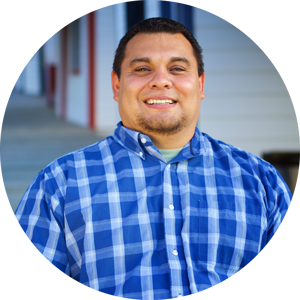 Sergio
The guy in the chair, who lost his ability to walk, but found his mobility through a change in his heart. A change when his mind was awakened by the gift of Purpose.
"And your life will be brighter than the noonday.
Its darkness will be like the morning." Job11:17