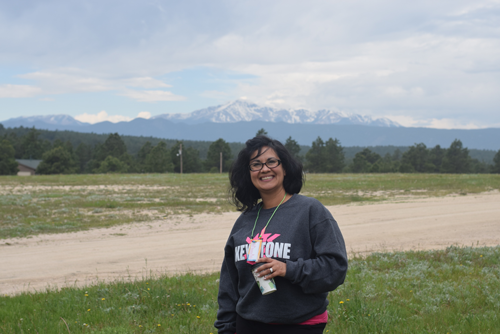 I was blessed to have the oppturnity to teach with Sergio and Ashley in the montains at a youth retreat.  This was the first time I would serve for three days and hours from home.  I was excited and anxious all at the same time.  I wasn't sure what I would teach and how to approach a room full of teen girls in a manner that would keep them engaged. As I pondered I knew that I wanted the girls to be connected with me enough that would feel safe to relax and take me in as one of their own.
After prayer and a little research I came across some old journaling I had done years ago.  I realized how much I enjoyed reading entries from the different chapters in my life.  I smiled and even cried at some of the written goals I has set for myself and met.  Some of these entries I couldn't recall even writing.  This is my handwriting so it had to of been me behind the pen.  It was such a soothing moment when I realized that God guided me to my journals.  I searched more and more and read more and more out of different journals and came across my first prayer journal.
Thanks God.  This is one of the subjects He wanted me to teach the girls. He wanted me to share with them how vital a personal relationship with Christ is, how we need to communicate through prayer, and how we can implement a prayer journal.  In teaching the girls I wanted them the know how journaling is not just a way to communicate but also a way to reflect.  I shared how going back through our journals will help us see the answered prayers, even when the answer may have been no.  How we can go back and look at the struggles we have overcame and see then ones that we still need to work on.  How we can go back on a bad day and read about the days that we could clearly see Gods blessing to help us get on the track of counting blessings again.  As Ashley and I stared to pass out supplies the girls quickly started to design and cerate their prayer journal.   Their body language started to relax and this allowed God to guide them.  I could sense they were already thinking of the first words they would write.  My heart began to fill at the thought.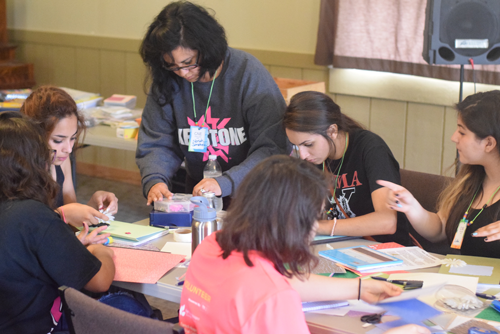 In taking the time to teach about comunitacaton and journaling it made me long to stay this connect to not only to my heavenly father but to these girls.  In taking time to share my feelings I had when I read my journaling it made want to read more of my  writing.  To go back to revisit the victories and to regroup to conquer the struggles that are alive on the pages.  The pages of communication with my Maker and friend.
Take the time to start your own prayer journal.  It's amazing what you can find out about yourself if you write it down.  It is amazing the relationship you can grow with God if you write down your prayers.  You can decorate it like we did at the youth retreat, or you can buy one and simply fill the pages with your words.  We have even created a page you can print off as many times as you'd like to write on.  Start off small, print off one page and write on it, see how you feel and then print off another and continue to write.  Don't forget that prayers are not always for asking, they can be for praising, or even just telling God what's on your mind. Enter your e-mail address below to get the Prayer Journal print outs.

When serving others you gain so much.  You dig into places you may not of ventured down in awhile.  When opening up to others you see the deeper parts of yourself that perhaps you hadn't seen for some time.  Share ways that you serve others and how that helps you stay connected.
Keep Rolling On.  Keep Writing On. Keep Praying On!