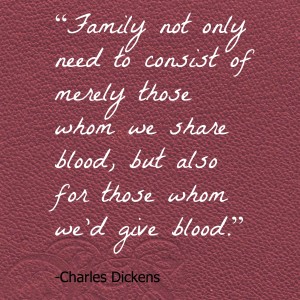 Family
The people who are forced to be in your life because you are bound by blood.
Only that isn't always the case. My family is filled with people that do not share my blood, and I do not share theirs.
There are other family members that do share my blood and I cannot say that one bond is stronger then the other.
Family are the people who know that you absolutely hate mustard. The people who know if you like peas or not. That if they buy you a book, they know you will be happy. They know when you are sad just by the sound of your voice. They can look you in the eye and tell you that you are being absolutely ridiculous and not everything can always go your way. They accept your bossiness 50% of the time and the other 50% they ignore you. They say your favorite words that you love to hear after an argument.
"Ashley, you are right"
They know how relentless you can be and the lengths you will go to prove that you are, in fact, right.
Family stretches beyond blood, marriage, and adoption. It is a word for friends, a word for those people who know all your likes and dislikes. All your flaws. The people who love you no matter what.
Family knows how to make you smile. They know your favorite movies. They know what you order at every restaurant.
They do things like make you meatless chili and meatless soup, and grill you vegetables when you decide to become a vegetarian. They don't tell you that you are wrong for your new life choice.
And when you decide that you want to eat meat again, they accept it without judgment, and welcome you back to their world. They put meat back in the chili, they grill you cheeseburgers, and hot dogs. They stop asking you to bring salads to every family dinner (okay sometimes they ask you to bring salads because after years of eating basically salads, you are the master at creating new salad ideas.) They become oh-so-thankful that they never have to purchase faux meat again.
They do it all with love and in return you do the same. By knowing all their favorites, and remembering their dislikes and accepting them for all of their flaws and praising them for all of their accomplishments.
Everyone has a family, it can be by blood, marriage, adoption, friends, roommates, neighbors. They are the people who lift you up, but also keep you grounded.