Have you ever forgotten who you are?
I have a time or two in my life and when I come back to myself and find who I really am, I am always shocked to find how lost I was.
Losing yourself comes in small slow steps until one day you wake up and realize you are someone you never set out to be. You became the worst version of yourself and are very unsure of how to get yourself back.
I've woken up and forgotten who I was and tried to change my ways to be more of myself.
It is like living in a vacuum because I was aware of my not-so-me self, but I still continued to do the things that doesn't make me, me. It is an out of body experience where the true you is trying to tell the lost you to stop, but the lost you forgot who she is and doesn't remember how to get back.
I have a lot of these moments when I struggle to get back to the me I really am.
One day I went to church (which admittedly is not a place I attend regularly) and the old me found this other version of me.
Church starts out with worship music played live by the worship team comprised of bass, guitar, piano, drums and singers. There are two monitors to display the lyrics of the songs, allowing the congregation to sing along. But on this particular day when I remembered who I am the lyrics did not appear on the screen.
Some members of the congregation was lost without those lyrics, they could not sing the song if they didn't know the words.
But not me!
I knew every single word to the song, and it made me remember who I was. I grew up in the church singing and Shout to the Lord was always one of my favorite songs. This part of me that I had lost for so long came rushing back.
Music has an indescribable impact on the human spirit. Part of me wonders if I would have felt so great if the lyrics were on the screen. The lack of the words made me dig deep to remember myself. The girl who loves to sing songs at church.
This is a moment that happened months ago, and I search for that moment when I know I need it. I make myself remember how I felt when I was singing that song, and what that song really means to me. I still struggle and I still don't admittedly attend church every Sunday but it is something I know I need to work on.
Maybe I wrote this for myself, to remind me who I am and to remind me what being who I am feels like, but I do know that everyone has to feel this way at some point.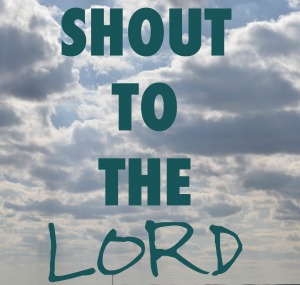 What are your epiphany moments that made you realize who you are?
Follow The Wheels of Grace's board Keep Faith Rolling on Pinterest.