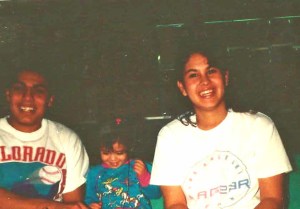 It is obvious that Norah and Sergio are great people, and I'm lucky enough to be their daughter.
Growing up I never realized I was a free spirit until I heard people described me that way. It was not a trait I knew I possessed.
I know my parents didn't set out to raise me to be a free-spirited person, but they raised me to be my own person and to make my own decisions, which is the same thing as being free-spririted only they didn't know that's what they were doing.
In junior high school we learned about politics. Democrats and Republicans. My peers knew exactly which political party they were affiliated with and exactly where all of their values stood, at the age of 13.
I struggled because I had no idea what my political party was.
My classmates would speak up and say "Well my dad believes……"
I had nothing, I had no idea what my dad believed in. I had no idea if he was a Democrat or Republican.I was perplexed all day long, I needed to figure out exactly what I was. I went home that day, sat down for dinner with my parents and expressed my concern.
"Mom, Dad I'm curious am I a Democrat or a Republican?"
"Well, Ashley, that is for you to decide."
"What you you mean, I need to decide? All the other kids know what they are."
"That's because the other kids are probably what their parents told them to be."
"Well can't I be what you are?"
"No you have to make that decision for yourself, we can't tell you what to believe in."
That day I had more respect for my parents than they would ever know. I always look back to that moment and I know that I was not like everyone else. There are so many stories of people who are pushed to be what their parents want them to be. Kids go to schools they don't want to be because it is where their parents attended. People pick professions based on what their parents want. I hear these stories and I thank my parents for letting my chose my own life path.
As well as teaching me that I am always free to make my own choices my parents have taught me that I can do anything in life that I want to do. I can say that I have a balanced life of a stable job and a stable place to live, but I often have my head in the clouds thinking of the things I still have to accomplish. I love that about them. I love that they have taught me to be my own person and that they have taught me to dream big.
What are we doing in this life if we aren't dreaming big? I spend all of my days knowing that I have a purpose in life, I don't have to be like my peers. I don't have to believe in something just because someone told me to.
I encourage everyone to make their own life choices despite what someone else tells them they need to do. Deep down we all know what we want, and no one can stop us but ourselves. I've always known I can accomplish all that I want because my whole life I've been shown that.
God gave us the gift of free will, at times we use it to make mistakes, but in the best of times we use our free will to create something beautiful.
That is all we can strive to do, is make something beautiful.
Follow The Wheels of Grace's board Keep Faith Rolling on Pinterest.

[starbox]