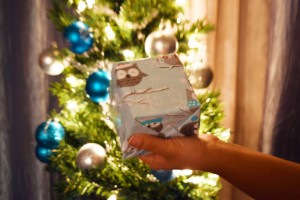 In November Sergio asked me what kind of gift I would like for Christmas.  I quickly responded that I did not want any gifts this year.  I had already decided in my heart that I truly did not need a thing and after looking around at all the treasures my home held it was confirmation my needs and wants have been met.  After the puzzled look came off of Sergio's face I continued to tell him my plan.  I honestly had put a lot of thought into what I "wanted" this year.
I got down to his level placed my nose against his nose,  this is how I get his attention, and begged him to honor my wishes.  I explained to him that I have everything I need and I would feel so much better if I would stat to give all the extra things in our home and pass them on to someone that needed them. I knew of families that have very little and here I sat with extra and some. He agreed with my idea.
Once I had the opportunity to actually give some of the items away it made me realize how I started out with hand me downs and how much I appreciated them.  Now I remember them given to me in love.  This is something that I want to encourage others to consider doing. Look around at all that you have been blessed with.  Do you have some things in your home that you no longer use.  Do you have things that you are hanging on to that you could do without.  Think about your neighbor that may not even have a Christmas tree or a nice dress to wear on Christmas day.    It is a win win situation. Blesses the giver and the receiver.
This Christmas take the time to look at how blesses you are.  Take time to reflect on how God has taken care of all your needs.
For my family and friends that want to give me something for Christmas here is my list.
Time
Love
Respect
Kindness
Understanding
Hugs
Kisses
Laughter
Compassion
Patience
Grace
Or if you're feeling ambitions a gift I would enjoy is for you to come over and clean my house, daily, or weekly, I'd even settle for monthly.  Or just once will always be appreciated.
As I tread though.
What are some gifts you'll be giving this Christmas?
[starbox]