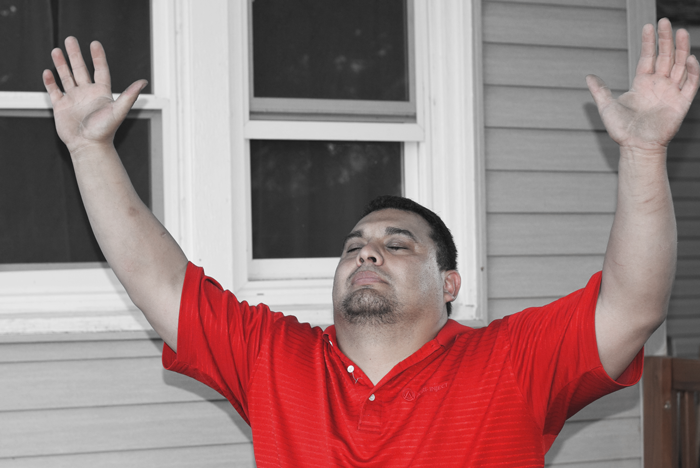 HOW MUCH DO YOU LOVE ME?
I started to feel that the everyday steps I make, in my life, are not made because of joy or passion anymore. My steps were not guided by love. Instead my steps were taken because of need and obligation and clouded by worldly things. Why do I need material stuff to make me feel whole? Are the idols I have put into my life consuming me? Have I traded what sustains me from the inside for what the world says I need to sustain me from the outside? Is this why we tend to live out of our means? Has this taken control of our lives to a point that we start to forget what is important?
God, family, and relationships are what should be important. They are at the core of what will give us joy, and what gives us the full sensation in our hearts. It is only found when God, family and our relationships are part of our lives. Without them we are lost and empty. We search for false idols to fill in the gap and the emptiness in our hearts.
It's not hard to find, most times it's right in front of us. But because we're so busy with our lives we don't make time to seek it out. We can't take a minute out of our day to glance at our surrounding and see what we are missing. When the last time you enjoyed the beauty of a sunrise, or you offered a warm hug to someone, just because? God never wanted us to be empty or alone in this big world. That is why he made a man and a woman, as well as animals, and the earth to live on. That full sensation we feel in our hearts is his spirit living inside us. The Holy Spirit. We can easily forget that He's waiting for the day when we open our eyes and heart.
If God were to come up to you in the streets and ask you, do you love me, how would you answer? Would you say. "Of course I love you God, I go to church every Sunday, I pray every night, and I tithe. Doesn't those actions show you that I love you?
God would say "No this doesn't show me you love me, it shows the world." God wants a relationship with you. He wants you to lay down your life, and to follow what He has commanded, so He can fill the emptiness in your life.
"For God so loved the world that he gave his only begotten son, that whoever believeth in him would not perish, but have everlasting life" John 3:16

"God is greater than our worried hearts and knows more about us then we do about ourselves" 1 John 3:20
This year I celebrated 20 years of marriage with my wife. We have created many memories together that show our love for each other. But there's one memory that stands out to represent her love for me. One day out of the blue she asked me if there was anything she did that bothered me. I had to pause for a minute to make sure it wasn't a trap. Once I knew it wasn't a trap and she really wanted to know, I told her a few things that bothered me. Afterwards I felt obligated to ask if there was anything that bothered her about me. She handed me her list that was ten pages long, front to back.
I felt weird after telling her that there are things that bothered me about her, it's not something I would normally share because I didn't want to hurt her feelings. However, something amazing started to happen, she was trying to not do the things that bothered me anymore.
Why would she do this? It was because she loved me, loved me so much that she wanted to correct her actions. She was willing to change herself for me. When you love someone you change a few habits to show your love and that you're committed to the relationship. I believe this is what God wants to see in us. Would you be willing to change your life because you know it bothered Him? Can you love Him with all of your heart? Could you give up the worldly stuff, addictions, and your pride?
"For what will it profit a man if he gains the whole world and forfeits his soul? Or what shall a man give in return for his soul?" Matthew 16:26
We need to start living our lives, acting like God could walk up to us on the street at any time and ask us do you love me. We need to love our families in the same way. What a beautiful thing this would be for our children to see us love in this way. To see our children mimic how we love would be a start at changing the world. God wants us to be in relationship with each other. Let's not let the world cloud our eyes with false joy and love that is found in possessions, status, or in any of the idols that we place in front of God's love. His love is unconditional, unlimited, and complete.
"Your name is permanently engraved in the palms of his hands and no man shall pluck them out" Isaiah 49:16, John 10:28
Remember you can't worship the Lord if you're still in love with the world!
Remember to Keep Rolling On