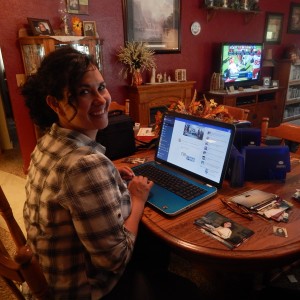 Here we are ready to share with you who we are and what the heck we are up to. Actually we are up to a lot different projects, working full time jobs, rising children, a prison ministry, members of a research network, yard work, football games, the list goes on and on. Oh yeah let's not forget this book we are writing. This special project takes up time especially the homework Ashley gives us. I certainly live off of a to-do list and a calendar. My phone goes off with reminders for this and reminders for that. I have recently learned that I must set up time to visit friends and my family members, otherwise time passes on and I don't even know what's going on in their lives. When that reminder goes off it is time to Roll.
I start my morning at 4:40 am. I am up while it is still dark outside. In the winter the air can be so cold. Brrrrr! I send text messages to make sure my workout partners are up and ready to face the workout for the day. I hate to workout alone. After all these years I still need motivation and accountability. When my alarm has sounded I head to the bathroom, quietly to put on my workout clothes. Still half asleep I have been known to get stuck in my sports bra or put my running tights on inside out. I've been getting up for five years this same way I know Sergio is awake before my alarm sounds. Some days when he opens his eyes he smiles at me and says "go get em tiger." I love it when he says that to me, makes me feel like he believes I am strong. A good bye kiss to him for sure.
Years ago I was heavy and unhealthy to the point of being denied insurance so this working out thing hasn't been easy. Sometimes getting out of bed requires a mental push. Did I mention winter and cold? Negative 14 degrees is never a happy morning. I love the white that snow brings, but I hate to be cold. When I am under my blanket I have to remind myself how yucky I feel when I don't get up and sweat. I have learned to understand why a person should workout. I know that it gives me clarity and gets me going for whatever the day may bring. After my workout I am ready for the day!
Most days I work at a dental office and I have been in the dental field for over 19 years. Crazy but true. I have been in my current office for 18 years. I am blessed to work with people that I consider to be friends and some almost family. I spend so many hours a day with them that we have formed a bound. I love interacting with people and improving a persons smile. A smile is a big thing. I have seen people struggle with confidence when their smile is in need of repair.
I work 4 days a week at the dental office and 3 days I get to stay at home. I love that I can have that extra day to be home completing all the things it takes to run a household. I get to see my kids come home from school and make a meal that takes a little more time to prepare. I love this day off because it gives me an opportunity to share with you, my dear readers. I am a bit of a neat freak so I take this time to clean my house. When my house is clean I just function better. My family makes fun of me all the time about how I clean over things that they have already cleaned. They tell me how they refuse to try and help because I will just do everything over again. Really I am trying to stop the over doing.
When I have down time I like to read. Books, articles, newspapers, my bible, the only problem is that time dose not allow for reading like I would want it to. Paper crafting is another thing I enjoy. I do not consider myself to be very crafty but I love scrap-booking and card making. I love to sit and sort my pictures and dream of the color of paper I want to use, or embellishments that I want to use to make my pictures come alive. I enjoy sharing my creations with my family. I just recently made 120 tags to go on my favors for our vow renewal in October.
I enjoy listening to music because it sends me to a great place. I do not let any one change the station in my car. I can sing almost every song on K Love. When I am alone I will sing like I was on stage. It's a beautiful sound. No, just kidding I have a terrible voice but I love to sing.
Another activity for me is a prison ministry that my best friend and I head up. Quarterly we enter the prison and offer a worship services to male inmates in a maximum security facility. This is a new ministry for me and one that I am currently passionate about. With this ministry I receive prayer request from inmates all over the states and pray for them as they come in my mail box. It is a very fulfilling ministry. This week I am looking up curriculum to take into the prison as well as the worship service. This month we will get the opportunity to conduct a worship practice with the inmates. I an so excited for this opportunity. I hope they don't send me away when they find out that I cannot sing.
When I am not working on household chores or doing the things that I enjoy I spend time over the phone in therapy with my son who is in treatment. Because of the distance between us we do a lot of therapy over the phone. I spend time making phone calls setting up whatever treatment is needed for him and lining out whatever his or our family needs my be in getting him well and stable. This takes a lot of patience and emotional energy. If one has a member of their family in a treatment center you just simply cannot wait around for the phone call that they are well and are being discharged. You have to be activity involved. Because of the severity of my sons condition our relationship suffered so we are currently working on rebuilding one. If you have not gone through this its hard to understand. Lets say that trauma sucks and it not only affects the person but the family as well.
One of my favorite days of the week is Sunday. Oh how I love Sunday. When I start to get ready for the day I daydream about what songs we will be singing in worship at church. I love going to church, it is like a big family get together. If your church dose not feel this way come to my church. I also prepare myself for the message that God has prepared for me. He always has something I need to work on and gives the tools to do so. That is when I need to be available and I mean 100% available. I am stubborn sometimes so God steps on my toes often. Going to church is more important that working out and like working out if I don't go I feel yucky. It builds your spirit and clears your mind. The benefits are endless. What a way to start a week. As you can tell I have so many activities in my life. Some give me joy, some are just work, some can be painful, but they are all what make me me. Just me. As I tread through.
[starbox]