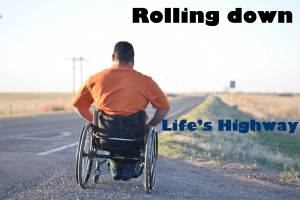 Do you ever get the feeling that life is moving at a high rate of speed and that there is no way to stop or slow down the speed?
There's no time to catch your breath or refuel your tank, no time to smell the flowers, and no time to enjoy the sun rise or set. There's only time to get to the place you need to be. We can easily let life turn into a highway that doesn't have any exit ramps. We can get so caught up going in one direction at a high speed that all we do is follow the car in front of us without taking the time to refuel, rest, or just enjoy the drive. We tell ourselves that we need to travel on the highway so we can get to our destination fast.
Once you arrive at the destination does it feel like you missed out on everything around you because you were so focused on getting there? You forgot to enjoy the journey.
I find myself with these thoughts and I start to think of my age and question what I have achieved with my time in this world. I don't focus on my accomplishments, I go straight to the things I haven't done. This thinking usually leads me to try to achieve more on my to-do list and automatically puts me back on the highway, going one direction and fast.
Life doesn't need to be this way. Why should we miss all of the scenery that life has to offer? We need to stop and ask ourselves this question. If we don't who will? When we travel fast most of the time we do it alone. We can't slow down and enjoy looking out the window, we can't create more off ramps or travel at a slower speed. We are going to fast to pull into a rest area to rest and refuel. If we did do these things we would have less of a chance of feeling empty and that we've missed out on something when we reached our destination. Instead we tend to question if the trip was worth it.
Remember that direction is more important than speed. Let's stop going nowhere fast.
This is a work in progress in my life, I have started off slow with simple things like talking with my wife over coffee before the kids get up and having breakfast with the kids when they do wake up. This has helped me stay connected with my family. When I get to work I try to acknowledge all of my co-workers with a good morning and a smile. I try to vibe an upbeat spirit during the day, even when the day becomes challenging. When I get home from work I try to find ways to help out, like picking up the kids and doing the dishes, and starting dinner. I have noticed that this has helped my wife slow down a little and relax. I have created an off ramp for her to refuel, relax, and enjoy the scenery.
I now see that this is the scenery of my life. I don't want to miss this because I'm going too fast. The more I do this the easier it is to look back at my life's achievements and not get that empty feeling that I missed out on life. I know that I will still need to travel on the highway at times but now I look for the off ramps more and take them any chance I can so I don't miss out on life.
Remember to look for the off ramps and to not get caught in life's traffic jam. I would love to hear what off ramps you take in life to help you slow down so please share.
Keep Rolling On