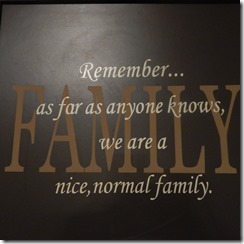 At one time it was just Sergio, Ashley and I. Birch Street looked and sounded a little different. Wow how things have changed how the wheels have turned and because of God's divine plan for us, we have several family members within eyes reach.
My mother and stepfather live across the street, and to the left lives my sister-in-law, my father in law, and my cute little nephew. My brother and beautiful niece don't live that far from us and a block away from them lives my one and only Ashley.
Sergio, Ashley and I moved to Yuma first, and our family followed. Not sure why they wanted to be so close? I think they must love us or something? The truth is when it comes to family events it is fun watching the kids run back and forth with excitement. Family time is so fulfilling. My son Jason enjoys having the family so close. Being a teenage boy he is always hungry and someone always has something "good" to eat in their fridge. The kids have it made around here. They are always getting spoiled.
With living so close to one another one would think that we get together all the time. The truth is there are some weeks that go by where we simply wave at each other as we pass on the road. Life's demands tie us down. However once we make plans to slow down and have family time we do just that….. Have family time.
A time and day is set and out goes the mass text messages with menu ideas and the reposes come back with what everyone plans to make. The meal is made with love and that spice is awesome. Some of us get creative and try new recipes and other of us have our specialty that is always requested.
If someone arrives five minutes early it's my step-dad followed by my mother announcing that he "just has to come early." When I hear singing that's usually my brother and when I hear slow wheels across my wooden floor that would be my father-in-law because when I hear fast wheels it is Sergio and watch your toes if he's got meat to put on the grill. He's got this crazy timing thing going on where you must time the meat to cook it to perfection.
When I hear "it smells amazing in here" that's my Ashley, she loves our cooking. When you see a cape and not a word is spoken that would be Batman Aka my nephew. He is always here to protect us. When I hear the sound of cute shoes (I know what cute shoes sound like) followed by "need some help" that would be Sergio s baby sister.
My favorite part of family time is listening to the kids. I love hearing their laughter. Then comes the time for the adults to share their story of the week. Some of those stories get kind of crazy depending on who the story teller is. If it's my husband you are sure to be me amused and if it's my mother your jaw is dropping. If it's my brother telling the story it gets out of control quickly. The combination of the three of them gets down right crazy.
When I hear the sounds of my family voices and smell all the different foods I smile thinking of how far we have all come. How we each have made it through many struggles. None of us have arrived to our destination yet. We travel in our own unique way. Sometimes we go backwards, fall in a ditch but with God's grace we refocus, turn our WHEELS, get back on the road and move forward. When we receive that text we put good food together with love, prepare to share our stories and head over to what we call Family time……….As I tread through.
[starbox]