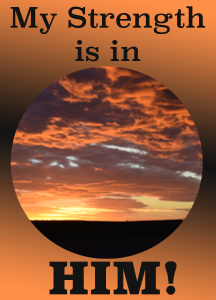 What do people see when they see you ?
What do they see when they see me?
It's a question I often ask myself.  Not that my self worth relies in how people see me but in how they see Him in me.  I leave work, meetings, church, or social events hoping I have shown that God's guidance has been whispering in my ear.  In places where tension lives I wonder what others see in me?  What lasting impression have I left?
I do not and will never know what every person sees in me when we have been in contact.  I am certain that many have not seen Him in me and wonder when my horns will start to grow.   At times I will forget to show God's grace. This week I had the opportunity to hear from several people how they see something within me that they not only appreciate but do not understand.  They wonder  how I can handle myself with such compassion and passion. They ask how do I handle stressful situations with ease.  The answer is that My Strength is in Him.
I end this week with a smile on my face because, I would consider this week to be weak in terms of growth for myself. This week has been a struggle!   Accomplishing life's many demands without feeling I was going to lose it was difficult.   God showed me otherwise.  For this week  He said I got it right.  At least for the ones that shared how they see this strength in me and how I touched them personally.  For them I left a positive impression.  I pray that I can  continue this path next week.
Thank you for sharing how I have made your day better, for sharing your struggles and trusting me to pray for you.  Thank you for sharing how you watch me in stressful situations and are amazed that I can keep a smile on my face.  Thank you for going out of your  way to encourage me by your willingness to share how I encourage you.  This is what keeps me going, this is what drives me to work hard at whatever project I am currently working on.  Giving you the glimpse of Him working in me and through me is my mission and purpose.  I will not always get it right and I will stumble but if I can give you the desire to seek who drives me I have done what I was meant to do.  For you to see Him even when you are not aware of it, is the greatest gift I can give.
Again I ask you, what do they see when they see you?  What lasting impression do you leave?  I hope that you simply leave grace.
As I tread through.
[starbox]