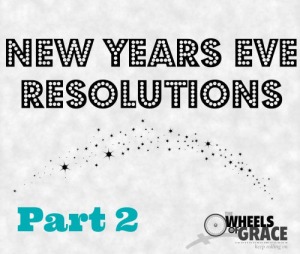 On December 31st we shared our New Years Eve Resolutions, after a month of having them we wanted to give an update.
Read our first post about our Resolutions if you haven't already.
Norah 
Here I am, the beginning of February. Ashley who is not at all bossy has asked for an update on my New Year's resolutions. So proud of that girl!
#1 Not allowing dust to get on my bible. Here is the truth. I have opened it several times while in church and I am diligent in taking notes on scripture, even referring to my notes however, I have not spent as much time in the word as I should. I bought two new daily devotions while at the women leadership conference last month and I have not opened them. Can I have 1/3 of a golden star?
#2 Being still. Okay being real here, I have done very well the past few days on this resolution because I was forced to. After all the running around we have been doing I haven't had the time to be still until I got knocked down. I caught the stomach flu. Three days in bed gave me time to be still and meditate. So I don't think this really counts? Well kind of…
#3 Motivate, encourage, and inspire others. I am doing great in this resolution. Golden star for me!!! This has been the easiest one because of all the opportunities Sergio and I have had lately in sharing our story. In opening up our lives to others it has created a connection, making people want to share their story with me. God has set up divine appointment for him to use me to encourage others. I have learned that I will never run out of people that need motivation, prayers, encouragement or my shoulder.
So as you can read I have some work to do. I pray that my next update shows some improvement in keeping the dust off my bible and in being still. Oh and God by the way, I do not need the flu again. How are you keeping up with your resolutions? As I Tread through.
Ashley 
I don't think I have been bossy lately, in fact I think I have been the opposite. However, I assume the bossiness would need to be judged by others. In truthfulness not being bossy is hard. Given that Norah has the flu (and she gave it to me) I cut her some slack but she still managed to write this week. That lady is great!
We are still working hard to write our book! So many people ask me when is it going to be done, and I do not have the answer for that. I am often provided with publishing advice, but in reality it is not ready to be read by other eyes then our own.  I am sorry if that is a disappointment, but once it is ready I imagine that you will not be disappointed at all that you had to wait so long.  I still have a secret writing project that I hope to tell you more about soon.
Saving money. What a bummer. I have not saved any money, but I also have not spent any money on anything other then what I need. Minus lattes. They are kind of expensive but hard to give up. I cannot give them up but I have cut back on them significantly. Why is saving money so hard? I'm still going to try but I might have set myself up for failure because I am in the process of planning two big trips this year which I know will take all my money. I have never had a shopping problem (some may disagree) but I definitely have a traveling problem, but in my eyes is not a problem to have at all! I'd gladly take any money saving advice you have for me!
Sergio 
It's been difficult living up to my new year's resolutions, I didn't think that it would be such a challenge to better myself. But it's been exactly that, a challenge. Time and everyday life seem to pull in the opposite direction of my goals.
My first resolution reading: This is something that I would like to enjoy. I need a way of escaping the everyday thoughts and paths, a getaway of my everyday habits. I have tried to read in a quiet room but it seems to be more of a chore than a pleasure. It could be the books I've selected for myself. I am willing to take suggestions on a few good book selections. Please HELP me!
My second weight loss: I have started to change some habits. I have made sure that I eat breakfast every morning so I have gas in the tank to get through the day (this is what my wife says to me every morning.) I make it a point to come home for lunch so I'm not enticed to put anything in my mouth because its quick. I have to say that I do feel a lot better throughout the day. My next step is to get into some rhythm with a workout or some kind of exercise. I have a membership to the gym now I just need to put down the remote and pull out the card. For me to achieve my goal of losing 50 pounds in a year I need to lose 4.166 pounds per month and 1.04 pounds per week. So it's time to hit the gym. Any workout ideas or exercise ideas would be welcomed.
My third Prayer: I have to say that I have made the best progress here with my growth in faith. I have spent time in the word reading the bible and I have shared what the Lord has put in my heart with others. Whether it be me getting up in front of a crowd and sharing my testimony, or speaking up at work and asking everyone in the building to pray. The best part so far this year has come from my daughter, Gese, wanting to be baptized. She has shared with me why she wants to be baptized and in a few weeks she will be baptized in the same church that me, Norah, and Ashley were baptized in. This will be a day of celebration. Out of all of my resolutions the one I made to pray 4 times a day has been the easiest. I find myself taking to god all the time, anywhere, and anytime. Maybe I need to tell him to kick me in the butt on my other two resolutions.
I have to remember that my improvements begin with ME and that I am a work in progress!
Today I encourage you to just start somewhere on your self-improvement and
Keep Rolling On