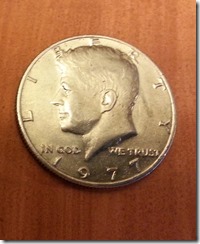 Recently I felt myself in a free-fall and had no idea how to slow it down, let alone stop it. I was over whelmed at work and I felt the demand it has on my every day life. I was overwhelmed with taking care of my family while trying to balance work.
I wasn't eating right or sleeping right. This didn't just start happening, it had been growing for months and I kept saying to myself "What is wrong with you? Get it together, handle it, you're a big boy."  But my pep talks didn't help and things continued to get worse.
I needed to step back and ask what do I do next? Give up and throw my hands in the air?
After many hours of soul searching and praying for an answer the light turned on. The reason things got so out of control was I had forgotten that I had to have
Balance

Balance was missing and I felt like a one sided coin. The coin of life needs to get balance from each side; on one side you need achievement which is where you find success, fulfillment, production, and capability, on the other side of the coin you need enjoyment where you find happiness, pleasure, relaxation, satisfaction, thrill and where you find the WOW in life.
You cant have one with out the other. Trying to live on one side of the coin is why some successful people are unhappy and overwhelmed.  They may find themselves feeling like I felt; in a free-fall.  I needed to find balance before I started to damage myself with every day that passed.  It can be easy to feel overwhelmed for a long period of time and not like what you see in the mirror. The opposite of achievement and enjoyment will be realized after time and you will start to suffer from depression, sadness, pain, misery on one side of your coin and on the other you will find defeat, failure, idleness and loss.
Once I came to see that balance was missing in my life I set out to fix it by making sure to I was focusing on the 4 areas of my life that needed balance.
Family, Work, Self and Spirit.
I now know that I need to contribute to each one of these area on a daily basis by focusing on achievement and enjoyment. It doesn't mean that I have to spend equal amounts of time on each, just that each are visited daily. So that I don't become one sided.
If someone were to ask me "What is your purpose in life?"
I'd say, "I want to achieve something today and I want to enjoy something today."
If I do both of those things, I'm going to have a pretty good day. And if I do both of these things every day, for the rest of my life, I'm going to have a good life.
I think this is true for all of us. Life will deliver the value and balance we desire.
Simple concepts. And once you focus on them as key components of your day, they are not that hard to implement. So, make it happen, for yourself, your family and all the important individuals you care about…every day for the rest of your life.
Achieve and Enjoy and Keep Rolling on……….