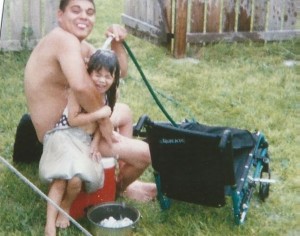 Being raised with a wheelchair
might make people think that my childhood was sheltered. That his wheelchair would have hindered us as a family. I don't think that at all. He still did all the things any normal dad would do. His wheelchair taught everyone in our family that there is a solution to every problem. He never saw his chair as a way of not being able to do something.
A few summers after my brothers were adopted we made a family trip to California. It was my first family vacation with siblings and even though I was 16, I was still excited to go to Disneyland. Our dad rode all the rides with us. He did not stop when his arms were tired from pushing himself around all day. He did not let anyone say that a ride was impossible for him to get on. He rode the tallest roller coaster with me because he knew how much I loved the adrenaline rush. My mom and her able bodied legs refused to go. My brothers were too little and too scared to go with me.
The next day we wanted to go to the beach. After the bus ride to the beach we realized there was no easy way to get a wheelchair to the water.  If he tried to roll though the sand his wheels would get stuck. He thought for a moment, looked around and saw two pieces of plywood sticking out of a near-by dumpster. He told us kids to grab him the plywood and lay one piece on the sand. He rolled on to it and we placed the other piece in front. We did this over and over until he reached the water. He got out of his chair and into the ocean and we all swam together as a family. Yes, he can swim thanks for asking.
That is how I remember my childhood. He has taught me all of my life lessons. He has taught me that there is a solution to every problem. Sometimes you have to stop, look around, and get creative. I never remember his wheelchair being a problem. I don't think it got in the way of anything I wanted to do. I never resented him or his wheelchair. I hope my siblings feel the same way.
He is the man that built me the biggest Barbie house you could imagine. It was made out of an old entertainment center, that's how big it was. He painted it purple. He used pieces of wallpaper in different rooms so my Barbie's had décor. Some rooms even had carpet, cut from carpet scraps. He is the most innovative person I know.
He is the man that made me a lemonade stand out of wood. It wasn't just a table. It was awesome with a built in sign. He even painted it yellow, like a lemon. I was so spoiled that he even made the lemonade to sell. He even gave me multiple quarters in exchange for cups of lemonade. He was my biggest customer and my biggest supporter.
He is the man who taught me how to fish.  The man who has taught me the names of all the tools in his toolbox.  He has taught me how to be a strong and independent woman.  He is the reason why I love action movies.  I'd like to think that I get most of my comedic humor naturally, but I know it has to come from him. There are a million different things that he has done for me, but those are the ones that stick out the most in my mind. The ones that make me proud to be his daughter; where I have to stop and look at my life and know that it was great every step and every roll of the way.
[starbox]