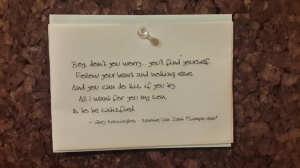 I felt the need to write about my oldest son and some of the hard times we have faced as a family lately. He was 6 years old when we were blessed to have him be a part of our family. Norah and I adopted him and his brother because we wanted our family to grow and we opened up our hearts to the world of adoption. Our intentions are always to help our family members grow up strong, knowing they are loved, knowing that they are part of a family, and that they would always be part of our lives forever.
This past year and a half have been one of the most difficult times in my life. When our boys came to live with us we told them we would always be here for them, they would always have a home, and that family always sticks together no matter what.
We weren't prepared for the baggage that my son was carrying from his past. He was part of neglect and abuse from his biological family the first 3 years of his life and the next 3 years he spent jumping from one foster home to another foster home. This has made life for my son difficult now that he is becoming a young man. He struggles with controlling his anger and struggles to share his inner deep feelings. At an early age we could tell that he was easily angered and it didn't take much for him to throw a tantrum when he felt he didn't get his way or that no one was listening to him.
We thought he would grow out of it and that we could handle his behavior, but as he got older his anger became worse. We knew he was not in control of his actions and that he couldn't stop his anger. Everything that we tried didn't work and we knew that it was only a matter of time before he would hurt himself or someone else.
We had to have our son removed from the house that we said was his and separate him from his family that was supposed to stick together no matter what. We placed him in a treatment facility to help him gain control of his life. This must be more difficult for him now, because now he must feel that he has lost everything again and that he's by himself in this world, on top of the rest of the baggage he's been carrying for the past 16 years.
As a father the thought of this makes me want to cry, I was supposed to save and protect him from the world and I failed. I know this is the way it needs to be right now, my son has to find tools to help him handle the anger and to find the tools on how to communicate his feelings so the people around him can understand and help. I try not to get too caught up in the guilt that comes, but it is very difficult.
I want my son to know that I believe in him and not to worry about any of the past mistakes or hard times, because some of the best things in life come from our mistakes. We will be together one day and it will all be behind us. When that day comes we can focus on getting his driver's license and I can help him with a few pointers on how to get a girls attention. We just have to get passed this hurdle. My job right now as his father is to let him know that no matter what I will always be here for him. And that he will never lose his spot at the dinner table.
Today I encourage you to not miss the opportunity to let a loved one know that they are in your thoughts. If anyone would like to share how they did this I would love to hear it.
Remember to Keep Rolling On