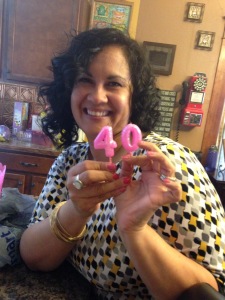 Norah just turned 40 this week.
Here are 40 things about the wonderful woman I get to call mom.
40. She is 14 years older than I am and I can feel it the older I get.
39. When she's 40 I'm 26.
38. When she turns 50 I'll be 36. I can't help but think we'll both be in our prime at those ages and have so much fun together.
37. She is my best friend, my rock.
36. I know she thinks that I give her strength, but really it is the other way around.
35. She is the strongest person I know and without her guidance I'm not sure I would be the strong woman I am today.
34. She pushes me to be the best I can be, but she doesn't push me with her words she pushes me with her actions.
33. She has never told me what to do, even when I ask her to. Sometimes I wish she would make my decisions for me but she never does, even when it is as simple as which book I should purchase.
32. She has led me to be the free spirit that I am.
31. We have a special relationship that I absolutely love.
30. She is my biggest supporter.
29. She listens to me complain about dumb things.
28. She knows that I am one of the most annoying people in her life and yet she still loves me.
27. I know she wonders why I have to be particular about every single detail in every single thing, but still she accommodates those details, or at least listens to my reasoning as to why things have to be a certain way.
26. She cleans better than any one I know.
25. She claims that she doesn't love to clean, but secretly it is hands down her favorite thing to do.
24. She watches stupid tv with me even though I know she hates it at the same time that she likes it because it makes her laugh.
23. I don't know how she has time for all of the things that she does.
22. I can call her when I'm sad and she'll listen to me cry.
21. She still spoils me when she can and takes special dinner requests from me.
20. Sometime she only texts me in emojis, and I enjoy trying to figure out what she means, but I know her so well that it isn't difficult.
19. When she misses me she calls me more times than I want to talk to her.
18. I talk about her way to much. So much to the point that people automatically say "what does your mom think about that?" because they know I tell her everything.
17. She cannot keep a secret. Everything I tell she tells my dad even when I ask her not to.
16. I am positive her best friend knows every little detail of my life because my mom is the worst at secret keeping.
15. If you upset her or make her mad she will tell you exactly how you made her feel (there is a chance I am that way too.)
14. More than anything I hate to see her cry and never know how to comfort her.
13. I cannot imagine the weight she carries everyday by being a mother to kids who very in ages from 7 to 25.
12. Sometimes I give her hugs to remind myself that in my mommy's arms I am safe no matter how old I get.
11. Other times I wish she would leave me alone and stop hugging me, I'm an adult!
10. I am way too much like her and it scares me every single day.
9. It scares me even more when I hear my siblings act just like her. She has phrases that tend to rub off on others.
8. When she sees me she usually says "Fancy meeting you here" in the most ironic situation possible.
7. She makes the best rice and beans in all of the land.
6. She has beautiful traits that she did not give to me, her beautiful skin tone and curly curly hair.
5. I made her listen to Spice Girls when I was growing up and she still knows all the lyrics.
4. She also knows all the lyrics to Madonna songs from when she was growing up.
3. And all the Michael Jackson lyrics.
2. She is extremely loving, compassionate, and kind.
1. I can always see God working through her at all times.
[starbox]