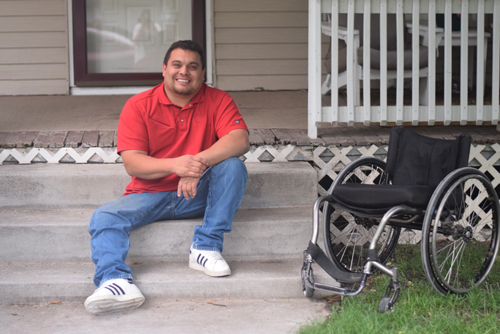 It was a day like any other.
I went running with my mom and I was out of breath.
When it was over I was thankful to be back at my house, ready for a shower.
Until I realized I locked my keys inside.
More importantly was that my mom was ready for a shower more than I was. Her hot water heater was broken and she had taken cold showers for the past 3 days. She asked if she could use my shower so she could take a hot one.
We were both locked out of my house.
After 20 long minutes we found a way inside. It involved me squeezing myself through a window and trying to forget my fear of small confined spaces.
I let my mom shower first because she had been complaining for days about cold showers. I wondered if she would use all the hot water and leave me with a cold shower, but I knew she needed it more than I did.
I went to work and I told this story to my co-worker.
He said "Are your parents waiting for a repair man to fix the hot water heater?"
The question took my by surprise. My answer, "Uh, no they are waiting for my dad to fix it."
I forget that people have professions in fixing things. If something is broken I would never call someone to fix it unless that person is my dad. He has fixed everything in our house growing up. If the hot water heater is broke the only person who can fix it is him. It's his job.
The hot water heater is in the basement. Fixing it requires him to get out of his wheelchair and to slowly lift his body down each one of the stairs. He doesn't need any help except for someone to bring his wheelchair down the stairs. He might also need a few tools.
After work I went to his house and the basement door was open, I knew he was down there. The upstairs had a hose leading outside and puddles of water with footprints. I knew those footprints weren't my dad.
I peaked my head in the basement to see him downstairs in his wheelchair. I say he was in his wheelchair because sometimes he's on the ground. I hollered "do you need help?"
He yelled back "No your brother is helping me."
My brother was no where to be seen, but whatever works for them. I left and I knew that in no time they would all have hot water.
I knew that after it was fixed my dad would have to lift his body up each and every step and need someone to bring his wheelchair upstairs for him, but he would get the job done. There was absolutely no reason to hire someone to do it for him.
What kind of a person are you? The hiring type or the do it yourself type? I am personally a little of both. I am the do it myself type, until I can't do it myself, and then I am the ask a family member to do it for me type. If me or someone I know can't do it, then it won't be done.
At what lengths do you go to accomplish a task? Do you take yourself down the stairs carefully one at a time? Do you go into things knowing that they won't be easy?
If there is something you need to do but it seems daunting just remember to take it one step at a time. Start slow and you'll get there. You may have to drag your body and maybe you need someone to bring you the tools to accomplish your goal, but with perseverance and a little help you can truly do anything.
Keep Rolling On. Even if it is one step at a time.