I have spent many, many Valentine's Days with Sergio.  In the summer of 1990 we fell in love and this fall we celebrated our 21st anniversary.   I can't think of a Valentine's Day that sticks out from all the rest, or one that I would rank as a memorable moment.   They have all been very simple and I love that they continue to be.
Sorry ladies, you may not agree with me when I say that I don't expect much from my husband on this day of Love.  Yes I do love gifts and I wouldn't pass up a date with my husband.  I enjoy flowers and I don't mind a good piece or two of chocolate.  I smile when I get cards that Sergio has picked out and has written a personal message in.  I am certain that I have each and every card he has ever given me.  I cherish the little things.  I am a simple girl.
We have 365 days of love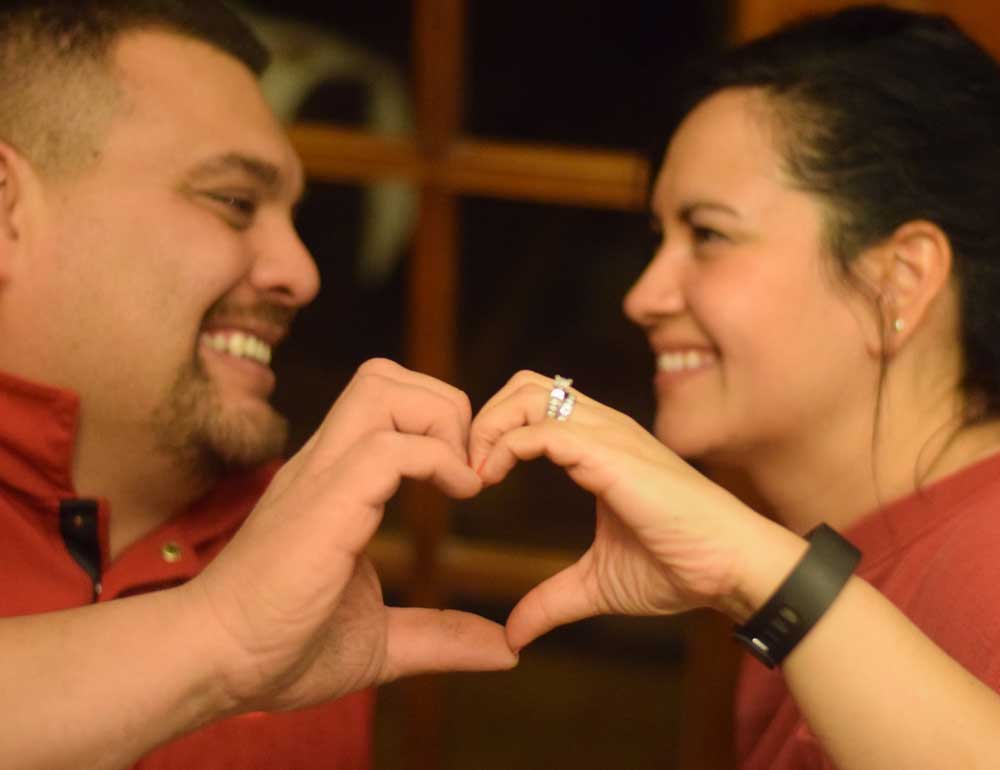 I cherish much more the day to day things that make me know how much I am loved.  I don't share this to brag and I am honest in saying that my relationship with Sergio hasn't always been this way, we have come a long way. Every day, I say this with all honesty, Sergio professes his love to me verbally.  Not a day passes that he doesn't greet me in the morning with an I love you and he says it again before I close my eyes at night.  Sergio and I spend 80% of our mornings talking over coffee. Coffee that he has prepared and placed before me. This quiet time is spent sharing our work week and plans for the coming days. We often laugh together and in times of need we have cried together. Sergio is known to call my office just to say he loves me and I often get text messages filled with loving expressions. He still holds my hand often and will ask me to sit on his lap so that he can embrace me.  He tells me often that he believes me to be the most beautiful woman on earth and shares how proud he is of my efforts in whatever goal I am currently working on.  He has always been my biggest fan.
I don't expect much on Valentine's day because I don't need to wait to be shown that I am loved.  Sergio shows me by the way he adores me and honors God by being a help mate.  He never asks me to do anything that he is not willing to help me do.  Yes guys listen up.  He vacuums, dusts, sweeps, mops, does laundry, cooks and the list goes on and on.  He never expects our home to look a certain way and he is not picky at the meals that I place in front of him. When I struggle Sergio invites me to sit in his lap and allows me to cry.  Often he will ask me if I want him to pray.  When my heart is broken hearing my husband's conversations with God on my behalf soothes me.  Having a husband willing to help me center my heart is better that any Valentine gift.  Having a husband that openly shares his love everyday makes a day of Love unnecessary.
We have 365 Days of Love!
Showing each other the we love every day of the year is something that I pray that we are striving to do.  I am not suggesting that you skip buying your loved one a gift.  I say go ahead and do that. What I am begging of you is to not stop on Valentine's day, continue expressing your love daily.  Showing love every day is the greatest gift you can give.  Make it a mission for 365 days this year.
Share with us your plans for Valentine's Day and how you show your love 365. 
1 Corinthians 13:13 And now these three remain: faith, hope and love.  But the greatest of these is love.
Keep Rolling On!
[starbox]