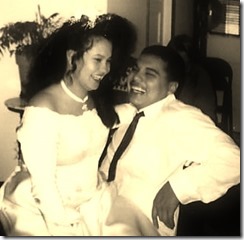 I want to share with you a special event that will be taking place in my life this week; my 20th wedding anniversary. Norah and I have decided to celebrate the achievement by renewing our vows.
Where has the time gone? It's amazing when I look back at the past 20 years that I have shared with my wife, my best friend, my companion, and my rock. I close my eyes and pray to the Lord, thanking him for delivering my angel. God knew that the only thing that could break down my walls was the love Norah had for me. You could say that I lived the old cliche "looking for love in all the wrong places." She was the main reason I found strength in myself, the main reason I could see hope for my life.
I wish I could say that I swooped down and swept her off her feet, or that I was her prince charming who rescued her from the tower, but that's not how it happened. Instead people wondered what she saw in me, knowing I had nothing to offer Norah. The person I was 20 years ago was not a person you would invite to dinner or introduce to your parents. But my angel had a way of making me see the good in myself and the good in the world. She opened my mind to the possibility of a future. I was given the tenderness of her heart and the passion of her affection. I now have a inner drive to become a better man, a better husband, a better father and that drive is fueled by pure love.
Norah must have saw something in me 20 years ago because when I asked her to marry me, she said yes!
Every morning when I wake up and I see Norah, I get a warm sensation that comes over me. I grin because I think what a lucky man I am. So I close my eyes and pray to the Lord.
"Thank you for blessing me with my wife and my children, thank you for blessing me with the ability to be a father, thank you for showing me that I'm a whole man, not half of one because I'm in a wheelchair, and thank you for the ability to show the world that not all is ever lost. Amen."
While drinking my coffee in the morning I raise my head as I look around and see what Norah and I have achieved together. A feeling of deep pleasure and satisfaction overwhelms me. I have a beautiful house, a career, a family, and I am part of the community that I can call home. These are things that I wished for when I was younger, things that I believed only happened in the movies.
I can say that it wasn't easy, every time we felt we were getting ahead something bad would happen, testing our faith in each other and in the Lord. While drinking, my now cold coffee, I am still smiling because the hard times made us stronger in each other and stronger in the Lord. If there was one word I could use to describe where we were 20 years ago as a couple it would have to be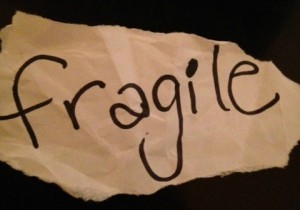 We were easily broken, we were easily shattered, we were damaged, we were delicate, brittle, and frail.
But now we have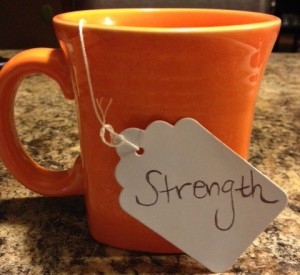 There is power in our love, we are a force together like Batman and Robin. I know I am in the right relationship when when my wife considers herself Batman in the relationship. Our love is full of energy. It is what lights the path of what is to come, so we are never in the dark again. This is what I hope my kids see when they think of their parents and I hope they know it doesn't only happen in the movies. I want people to see how in love Norah and I are and know that the hard times were a part of our journey.
My second cup of coffee is followed by the footsteps of Norah walking toward me and placing her hands on my shoulders while she says "Good morning my love." It sends a warm chill up my back and instantly a smile forms from ear to ear. What a great way to start the day!
This is when she drinks her first cup of coffee and we spend the next hour talking about what we need to do for the day and catching up on our family. I have to admit this is one of my favorite times of the day. It gives me the jump start that I need to tackle the day.
I'm excited to renew my vows with Norah. I can't wait to share the moment of us standing alone in front of God proclaiming our love to one another. I enjoy watching the planning and activities surrounding this special celebration. I love seeing how my wife lights up when her invitations arrive. Watching all of the women in our family make decorations for our special day gets me excited to know how much this means to them. I can't wait to hold Norah's hand as we walk and roll down the church aisle and read our vows to each other. I want her to sit on my lap and dance the night away, as we smile and whisper to each other. I now have to give thanks to the Lord because she said Yes again! I wonder how I will feel the next morning when I have my first cup of coffee, as I wait for the sound of her steps walking toward me to rub my shoulders. Mmm Bless!!
Keep Rolling On
Share with me what you do to keep your day rolling on.