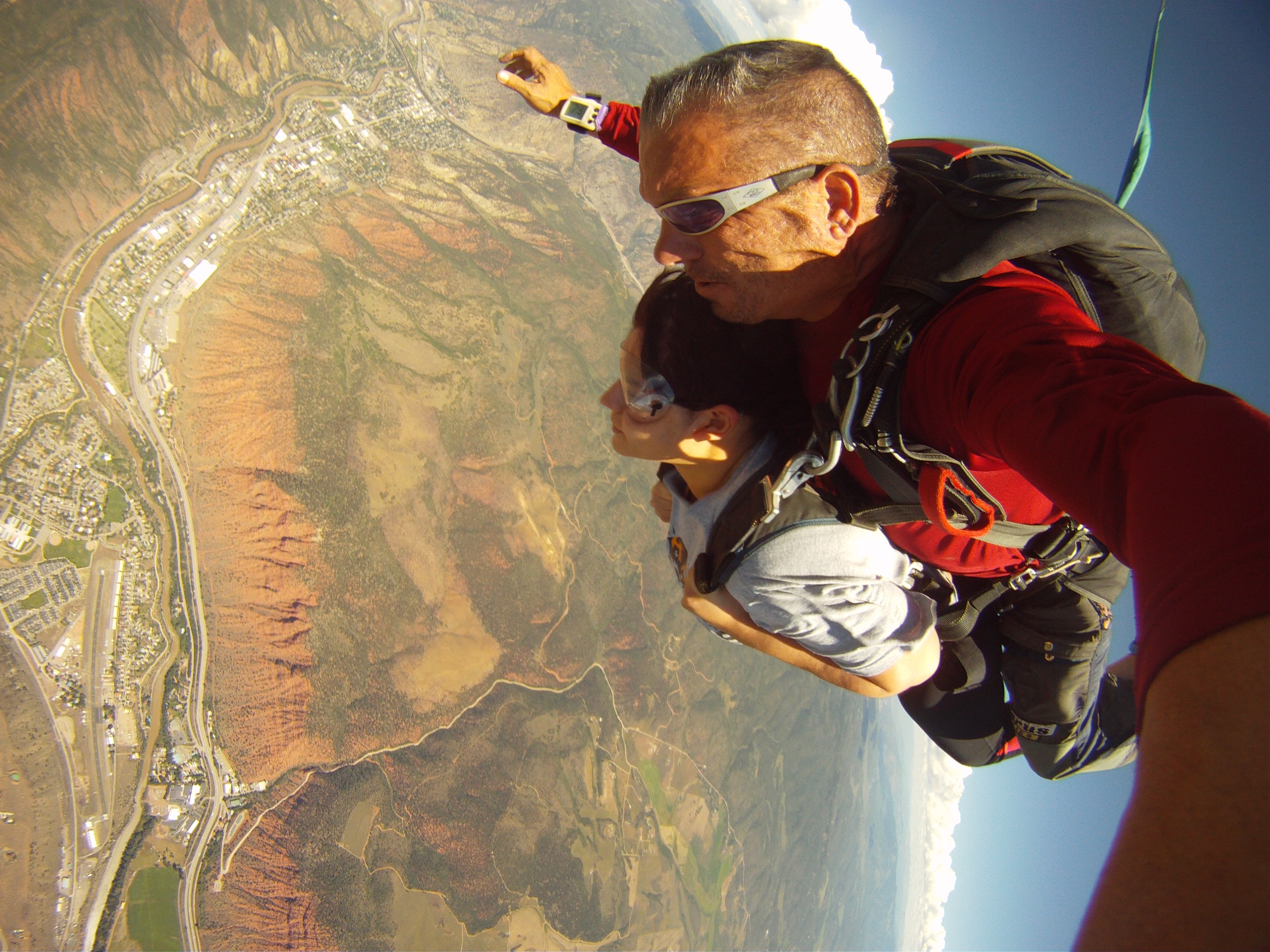 Your Passion is Like Sky Diving
Have you ever been so caught up in a moment that you are 100% who you are meant to be.  It may only be brief.  It may literally only last for one single moment.  But in that moment you are the most you, you've ever been.
If you play music it is the feeling when you get lost in the notes and your fingers magically play every single note perfectly and your brain isn't even thinking.  You just do.  You just play.  The notes slide out from your fingertips and when the song is over you feel powerful.  You did something you didn't even know you could and yet you did it without thinking.  You feel flawless.  You have impressed yourself.
If you play sports it's the moment when you're in the game and you serve, pass, spike, catch, throw, kick, score, dribble the ball in the most beautifully, effortless way. You have impressed yourself.  You're teammates give you a high five, they slap you on the butt.  You have impressed even them.  The crowd cheers for you and you've never felt better.
It's the moment when you fall in love and the entire world stops.  Everything freezes and you've never been happier in that one tiny moment.  
It's the moment when you've read a passage in a book.  When it resonates you write it down so you'll never forget that feeling.
It's the moment when you're thousands of feet in the air and a man is strapped to your back, while you're standing on the ledge of the plane, waiting to jump.
It's the free fall.
It's also when the free fall ends, the parachute opens, and you hang in the air.
That's what Writing feels like.  
That's what attending the Tribe Conference feels like.
As if I'm in a tiny, life defining moment.  Like the world just stops and stands still and I'm 100% myself.
It lasts just a moment.
After the moment has passed the worry sets in, the doubts about the amount of work I have to do.  The amount of pages I need to write overwhelms me.
But I remember that moment.  The one where everything was so clear.  The one where I knew I was a writer.  The moment where sitting in the Tribe Conference made me know exactly who I am and exactly what my goals are.
The Tribe Conference is a writing conference that I attended last year with my dad Sergio and this year I went with my mom Norah.  It is the kind of place that is filled with people like me who want to get their story out into the world.  The kind of people who want to help others with their message, their words, their art, and their wisdom.
The first time I found Jeff Goins (the guy behind Tribe Conference ) blog about being a writer I immediately knew he was the kind of guy I aspired to be.  Though his conference last year and his book You Are a Writer I discovered I wanted to be a writer.  I began writing a book two years prior to this, but still I didn't think I was a writer.  I didn't believe that being a writer was my calling.  Until I found Jeff Goins.
At first writing a book only became something I wanted to do to help me parents achieve their dream.  I wanted to help them write their book of overcoming the trauma of paralysis, of showing that their love could conquer all, and of showing that when one person is lost deeply how love can save them.
It wasn't until I searched deep inside of myself that I realized that I had my own story to share and my own journey to pursue.  
I can remember the time in high school when I played the clarinet and the world around me stopped because my fingers played the music flawlessly.  I can remember my best game of high school volleyball when I not only impressed myself but I impressed my team.  I will never forget the moment of falling in love and having the world stop.  I can always recall the feeling of standing on the ledge of the plane waiting to make the jump.
I will never forget the first time I impressed myself with writing.  I wrote something beautiful and I reread it over and over.  I could only think WOW I did it.  I am a writer.  
You cannot impress yourself all the time.  And those little moments of impressing yourself comes from years, months, weeks of practice.  I impressed myself with my writing after I wrote hundreds, thousands of mediocre words. I didn't not wake up one day and become a writer, I had to practice at it for a long time.
The Tribe Conference makes me feel that tiny moment of clarity, only there are several moments strung together.  The Tribe Conference is a conference for writers, a conference for those who know what that moment feels like.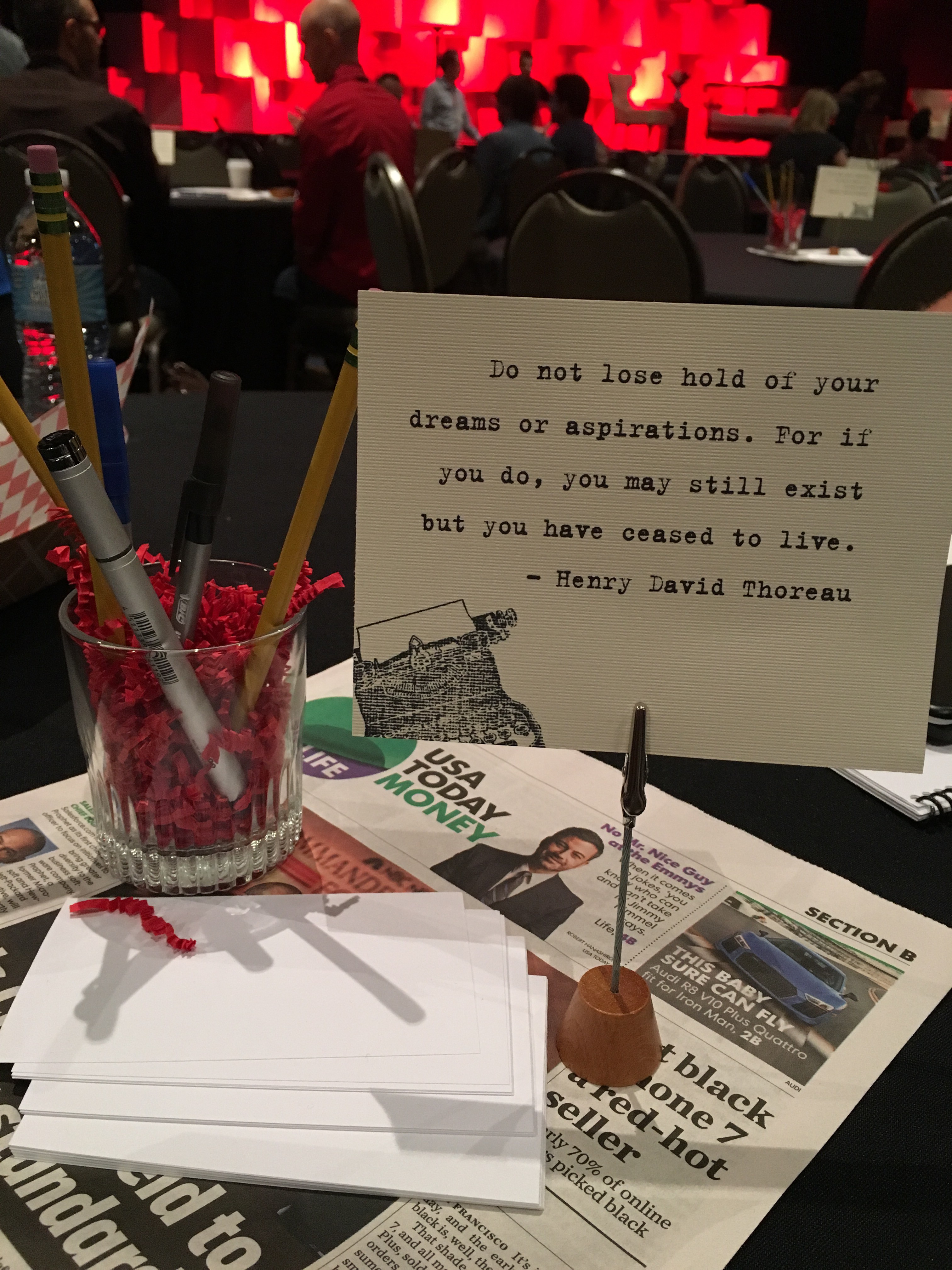 I could go into detail about the specific speakers, and how they influenced me to become a better writer.  I could, but it won't give you the real effect of what it was really like.  I could blab about this speaker and that speaker and what they said, but that won't make you feel anything.  Unless of course you were there, only then would you know exactly what I meant.
I can only say this it was like sky diving.  It was as if I was standing on the step of that airplane.  I had the entire world down below me,  I had a man who knew what he was doing strapped to my back.  I had everything I needed within my grasp.  I only needed to jump.
I needed to jump without forgetting that I wanted to go sky diving since I was 16 years old.  I purchased the skydiving ticket.  I drove 5 hours to Glenwood Springs.   I rode the airplane into the air, even though I felt claustrophobic from the moment I entered that plane.  I panicked at first until I remand myself that I planned to go skydiving, it was what I wanted.  It was a planned event.  It wasn't a spur of the moment decision and it took me almost 10 years to finally do it.
That's what being a writer feels like and what attending a writing conference feels like.
It feels as if you have to take one big jump knowing that every step you took to get to that jump was intentional.  It feels like you have a mentor strapped to your back who has taken the path before you.  It feels exhilarating and crazy once you get on that ledge.  The free fall happens so fast you don't even think.  And when you take that big jump you float down slowly and enjoy the view.
Now maybe you're not a writer, but you are passionate about something.  Take every time I wrote the word writer and put that into what you are: mother, daughter, wife, husband, father, son minister, photographer, coach, player, runner, dancer.
And reach for those moments that make you feel like the world belongs to you.  And if you have a chance to surround yourself with those who have the same dreams and goals as you, it will amplify those moments even more.  It will bring to light who you are and who you're supposed to be as the Tribe Conference has done for me.
The biggest piece of advice I received from the conference that is applicable to every single person is, to live.  Go out and live.  The rest will fall into place.
Go out and share your story of how you live and Keep Rolling On!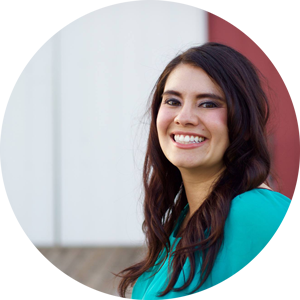 Ashley
Creator and Editor